DARE TO BE DIFFERENT
ATTENTION-GRABBING PRINTED FOOTWEAR
Regular price
$101.00 USD
Regular price
Sale price
$101.00 USD
Unit price
per
Sale
Sold out
Our Yellow Brick Road - Chunky Boots pay homage to music legend Elton John and his timeless hit song Goodbye Yellow Brick Road. Referencing the iconic yellow brick road from L. Frank Baum's The Wizard of Oz, these rugged boots offer a reminder that sometimes you need to look no further than within yourself. Immerse yourself in timeless style and legendary quality with this unique piece of footwear.

Elton John is a legendary musician who has produced numerous hits that have stood the test of time. One such song that has resonated with audiences for decades is "Goodbye Yellow Brick Road." Written by Elton John and Bernie Taupin, the song is the title track on John's album of the same name.

The titular road in the song is a reference to L. Frank Baum's The Wizard of Oz film and book series, where Dorothy and her friends follow the yellow brick road in search of the magical Wizard of Oz. In the film, they realize they had what they were looking for all along, and the song draws parallels to this theme of searching for something elusive only to realize that it was within oneself all along.
The lyrics of the song evoke a sense of nostalgia and longing for a simpler time. Lines such as "when are you gonna come down? when are you going to land?" and "I should have stayed on the farm, I should have listened to my old man" suggest a yearning for a return to a simpler life. This message has resonated with listeners of all ages, making "Goodbye Yellow Brick Road" a timeless classic.
The song has received widespread critical acclaim, with many critics hailing it as one of Elton John's finest works. It was certified Platinum in the United States in 1995, over twenty years after its initial release, and remains a beloved song among fans and music lovers alike.
All of our Chunky Boots are custom-made-to-order and handcrafted to the highest quality standards.
Add style and comfort to your footwear collection with a pair of custom printed boots!
Features eco-friendly leather with a double-sided print and rounded toe construction.
Lace-up closure for a snug fit.
Soft textile lining with sturdy construction for maximum comfort.
Lightweight rubber and EVA outsole for traction and exceptional durability.
Please allow 7-9 days to receive a tracking number while your order is hand-crafted, packaged and shipped from our facility. Estimated shipping time is 2-4 weeks.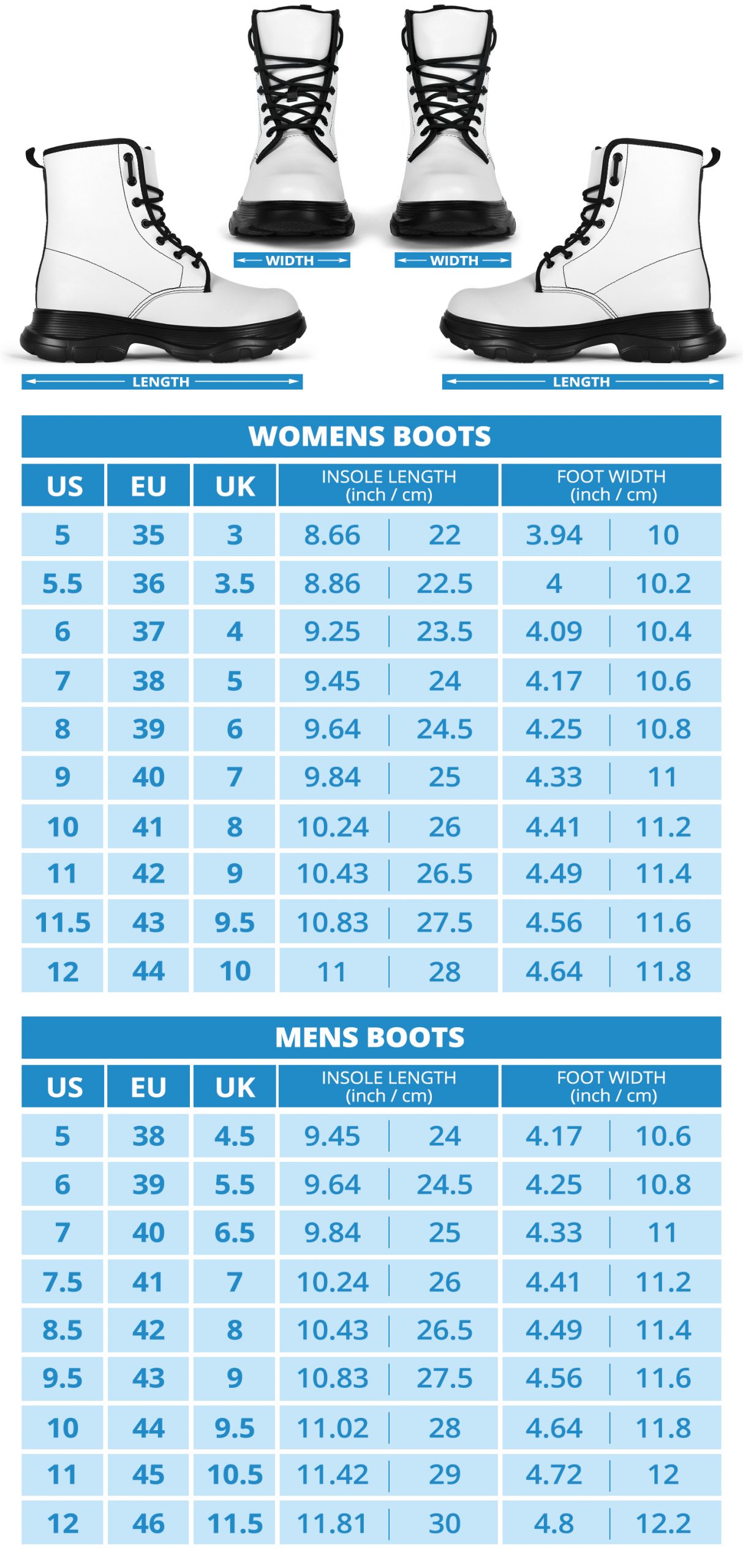 Let's Be Kind To The Planet.
We custom make every pair of Shoezels individually for you when you order. This allows us to ensure the greatest possible quality, while reducing the impact on the environment by not manufacturing and stocking unsold Shoezels. We also plant 2 trees for every Shoezel that you purchase today. This further helps to reduce our impact on the planet.
View full details
AFFORDABLE PRICES

We don't think you should have to pay silly prices in order to get premium shoes & boots. Our prices are rock-bottom, but we don't compromise on quality.